Casting director vs. digital casting?
How did social media transform the casting call process? KastingKafé tells you all about it!
Most of the oldest professions are undergoing a multitude of changes through digital technology. Taxi drivers have to deal with Uber. Doctors register on Doctolib to get noticed. In the same vein, casting directors have to contend with the Internet to find the next « big contract ».
Would you be available for a casting?
There are many stories of artists, who had the privilege to answer the question "would you be available for a casting?" through the oldest method of casting call. Romain Duris's story is probably the best known for his paradox. It is a bit by chance that he turns to the profession of actor. Discovered after school by Cédric Klapisch's casting director, he didn't want to become an actor.
Kind of same story for Vincent Lacoste, one of the heroes of the movie « Les Beaux Gosses ». He was discovered by Stéphane Batout, when he was walking down the street in Paris, after school. For this movie, he won the 2010 Lumières Prize for the best male hope and was nominated in the same category for the 35th Caesar ceremony. Actresses are lucky too. Especially Laëtitia Casta who was offered a modeling contract, while she was quietly lying on a beach, in Corsica.
The casting director distributes business cards at all times and all costs. Its historic hunting ground has always been the streets, because this is where the most atypical profiles can be spotted. But the digital has reshaped some of those methods, and led the casting director to change his stand.
Most are available on Internet
Certainly, some intractable ones are still working the old-fashion way with random calls to apply for tv-hooks for example. Meriem Amari, casting director for « Plus belle la vie », skims open scenes and Parisian theaters in search of amateur actors. She reported that the word « amateur » is only to describe the fact that they do not live from being artists. But even now, they no longer work only with white or black binders. They have it all digitized on their laptop or just on their smartphone.
For casting directors, there is value is to use an intuitive platform , run by professionnals, as KastingKafe.com.
This save them time and hemp them find the perfect match. The work is suddenly easier for them !
In parallel of these platforms of artists referencing, social networks play a central role in the discovery of these growing stars. Thus, young painters, sell their paintings directly on Instagram. Why? To avoid the commissions pocketed by the galleries (ranging from 30 to 50% sometimes).
According to the 2019 Hiscox report on the online art market below, 34% of all respondents (and 43% of respondents under 35 years of age) indicated that social networks influence their decision-making process when purchasing works of art, compared to 32% in 2018 and 29% in 2017. An unequivocal proof of the power of social media today.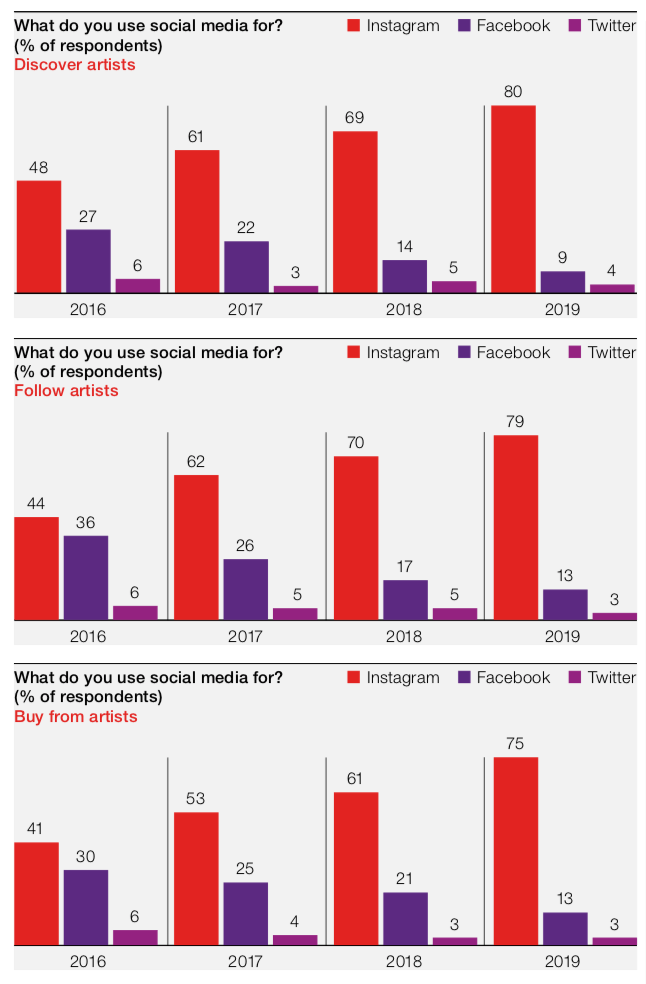 On Instagram, we know that a human face is 38% more « liked » than a basic landscape post. Therefore influencers constantly take care of their image and notoriety on the networks by taking selfies. The models/bloggers wants to be « Instagram-friendly » in order to attract more and more sponsors, and to be noticed by casting directors.
In addition, thanks to the Youtuber, auditions are changing. Indeed, the new hype around those type of celebrities, has allowed a real buzz around them. From now on, anyone can film themselves in their room addressing in an offbeat way their daily hassles, with a minimum investments on production.
They paved the way for a generation that wanted to escape anonymity and get the opportunity to land the next role in TV shows, reality TV, even cinema. Internet, has given everyone a chance.
In the end, the role of the casting director does not change radically. He always operates in the shadows. It's very difficult to know how many of them there are in France or Belgium.
They are mysterious, with a very specific purpose: to highlight what they think to be the best talents.
It is undeniable however, that these professionals must now deal with the Internet, which combines simplicity in the approach, the possibility of choice and platforms already making it easier to find professionnal models/actors. Moreover, with the democratization of the approach, everyone is able to stage themselves easily. The web is becoming essential for all casting directors.
In conclusion…
We discover that today, many artists (actors/musicians) were famous on the Internet first, before blowing up on other platforms. At this point, casting directors are finding new ways to do what they were always doing: helping propel talents.
Back